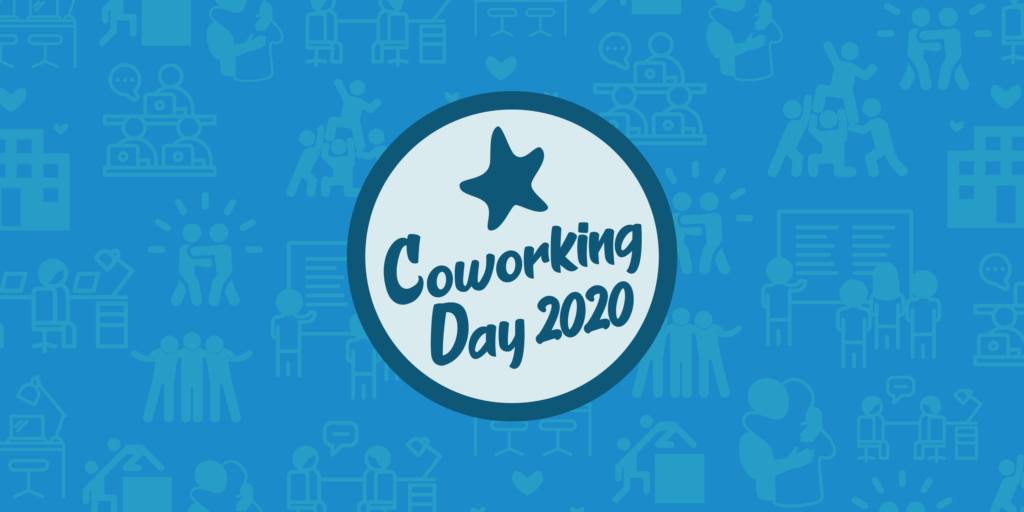 Check below for details on how to submit your clip for our special Coworking Day video!
What is Coworking Day?
Celebrate coworking's 15th birthday by organizing or joining an event in your city!
Coworking Day is an annual holiday to commemorate the anniversary of the day Brad Neuberg first brought modern-day coworking into the world. You can still see Brad's original blog post announcing the first coworking space here.
Brad was highly supportive of people taking his idea and running with it, so when Tara Hunt and Chris Messina came along, he encouraged them to spread the concept of coworking far and wide.
And spread the idea they did—through the Coworking Forum, Coworking Wiki, Coworking Blog and more, they inspired others to build similar communities everywhere—and that's why coworking is rapidly becoming a household name.
On Coworking Day, members and managers of coworking communities have a chance to celebrate the story behind what makes coworking special—on a global scale, and on a local scale—by hosting open gatherings in their spaces or elsewhere.
How do I participate as a coworking space member?
To participate in a Coworking Day activity, find one happening in your area! Search #coworkingday or "coworking day" and the name of your city, or message your local coworking spaces in your area to ask them if they're organizing anything special.
How do I participate as a coworking space manager?
On International Coworking Day – August 9th – we will launch a series of videos celebrating the impact of the coworking movement. We'd love to feature you and your community!
We want to hear you share your thoughts around the coworking movement and how you believe it will help to shape the future. What do you love about coworking? What kinds of things have you achieved in your coworking communities? What kind of an impact can we have around the world?
If you'd like to share your thoughts on video, please follow the instructions below:
Overview
Record a video answering one of the below questions.

Each video can be a maximum of 30 seconds long.

You can answer more questions, if you'd like: just record separate clips for each question!
Register using the form below. You'll then see a link you can use to submit your clips.
Before you film your answers
Hold your camera / phone in the landscape (horizontal) orientation.

Please ensure you are in a quiet place with good lighting.

We want to see and hear you clearly.

Center yourself in the frame. Don't sit too far away.

Use a tripod or hold your camera / phone as still as possible during filming.

Speak clearly and look directly into the camera / phone, as if you are speaking directly to the audience.
Questions
In your video clip, please introduce yourself:
State your name

Your organization or space

Your city and your country
Then answer one of the following questions:
Question #1
How did you discover coworking? Why are you in the coworking industry?
What does coworking mean to you?
Question #2
Can you share any examples of positive coworking outcomes? Successes or big wins in your community? Stories or celebrations (for you or your members)?
Question #3
How can coworking communities have a social impact? Do you interact with or support the community beyond your space? What are you (or your members) working on that makes a greater impact?
Question #4
What kind of a world do you want to return to or create?
How can coworking help to achieve this vision?
If you'd like to answer more than one question, go for it! Just record your answer to each question as a separate clip.
Deadline
The deadline for submissions is Wednesday August 5th, 2020.
? Due to the volume of amazing insights and stories we've received, we're going to be releasing a series of videos instead of just one. So the deadline is now rolling. So whenever you find inspiration and can share an answer or two, grab your phone, record a video and send it over.
Once you have finished filming and naming your video files, please upload the videos using the link provided when you complete the following form.
Got questions?
Contact us at info [at] opencoworking.org!
Who are you?
We're Tony Bacigalupo, Ashley Proctor, Jeannine van der Linden, and Hector Kolonas. We help run Open Coworking, a nonprofit that supports all the free resources you'll find at coworking.org, including the Coworking Visa, Coworking Forum, Coworking Leadership Slack Channel, and more.
We love coworking and want more people to be a part of this movement that is helping over 1 million people find belonging and empowerment through local community and entrepreneurship.
If you're reading this, you're a part of the movement. Welcome!
---
Need more inspiration?
Check out these posts from last year's Coworking Day!