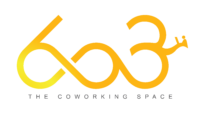 Mumbai, Maharashtra, India
603 The CoWorking Space, Makhija Arcade 6th Floor, Unit No. 603 35th Road
Mumbai
Maharashtra
400052
IN
CoWorking has come to You in Mumbai!
603 The Co-Working Space India is a newest co-working space built for working in a community environment.
Kunal G. Kataria founder of the space says, CoWorking has existed in our country from over 50 years since we have shared our offices and shops with others to reduce our operating cost and today it is modernised to CoWorking Spaces which includes free and unlimited access to Internet, Tea and Coffee and also includes your electricity bills. You simply pay for a seat, sign an online agreement and your office is operational within 1 minute.
These spaces have conference rooms and a Breakout areas to entertain you and your clients / guests when they visit you at your office.
A community manager ensures your are being served well with the amenities and requirements you may have including help for building your business or managing your Taxes.
We have taken it a notch higher by providing Share Market support by providing high end infrastructure to ensure your trades go faster and we also have a technical and fundamental analyst to provide you support in your trading needs. This is a first of its kind CoWorking Space.
Hence we say, CoWork to build your Network because
"Your Network is your Net-Worth"